Breast Reconstruction

Related Media: Breast Reconstruction
Definition
Breast reconstruction is plastic surgery to rebuild a breast. It is usually done after a mastectomy has been done to treat breast cancer. Reconstruction generally requires several stages. The first stage may be done at the time of mastectomy (immediate reconstruction) or at some point after the mastectomy (delayed reconstruction). Breast reconstruction can be done using an implant or tissue expander followed by placement of an implant. Breast reconstruction can also be done using a tissue flap taken from another part of the body.
Breast Reconstruction with Implant.
Copyright © Nucleus Medical Media, Inc.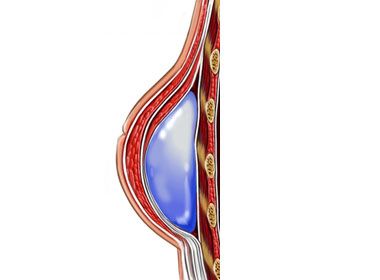 http://services.epnet.com/getimage.aspx?imageiid=4990
4990
FY00011_ma.jpg
FY00011_ma.jpg
NULL
jpg
cyst
NULL
\\filer01a\Intellect\images\FY00011_ma.jpg
NULL
14
NULL
2004-04-30
280
380
Copyright © Nucleus Medical Media, Inc.
Reasons for Procedure
The goal of the procedure is to create a reconstructed breast that appears as similar to the natural breast as possible.
Possible Complications
Problems from the procedure are rare, but all procedures have some risk. Your doctor will review potential problems, like:
Bleeding
Infection
Pain
Reactions to anesthesia
Fluid or blood-filled cysts in the healing breast tissue
Abnormal scarring
Painful and/or restricted arm and shoulder motion
Uneven appearance of breasts, due either to position or size
Implant may harden, rupture, or leak
Implant may make cancer detection (through mammogram and/or self-exam) more difficult
Newly reconstructed breast will not have nerve sensation
The need to have more surgeries, including having the implants removed
Some factors that may increase the risk of complications include:
Smoking
Bleeding disorder
Malnutrition
Chronic illness or debilitation
Prior radiation therapy to the chest wall, which may make healing more difficult
Silicone-filled breast implants are not designed to last a lifetime. They typically need to be removed within 10 years. Your risk for complications increases the longer you have the implants.
Call Your Doctor
It is important for you to monitor your recovery after you leave the hospital. Alert your doctor to any problems right away. If any of the following occur, call your doctor:
Signs of infection including fever and chills
Redness, swelling, increasing pain, excessive bleeding, or discharge at the incision site
Pain that you cannot control with the medications you were given
Persistent nausea or vomiting
Implants grow hard or you believe that they are leaking
Joint pain, fatigue, stiffness, rash, or other new symptoms
Pain and/or swelling in your feet, calves, or legs, sudden shortness of breath, or chest pain
If you think you have an emergency, call for emergency medical services right away.
Prior to Procedure
The following may be done:
In the days leading up to the procedure:
Talk to your doctor about the medications you are taking, including over the counter drugs and supplements. Some medications may need to be stopped for 1 week before surgery.
Arrange for a ride to and from the procedure.
Arrange for help at home after the procedure.
The night before, eat a light meal and do not eat or drink anything after midnight.
You may be asked to shower the morning of your procedure. You may be given antibacterial soap to use.
RESOURCES:
American Cancer Society

Breast Cancer
CANADIAN RESOURCES:
Canadian Cancer Society

Canadian Society of Plastic Surgeons
American Cancer Society

Breast Cancer
CANADIAN RESOURCES:
Canadian Cancer Society

Canadian Society of Plastic Surgeons
References
Breast reconstruction. Breast Cancer website. Available at: http://www.breastcancer.org/treatment/surgery/reconstruction. Accessed September 1, 2019.
Nahabedian MY. AlloDerm performance in the setting of prosthetic breast surgery, infection, and irradiation. Plast Reconstr Surg. 2009;124(6):1743-1753.
Namnoum JD. Expander/implant reconstruction with AlloDerm: recent experience. Plast Reconstr Surg. 2009;124(2):387-394.